BMO will be able to better serve its Canadian-based business and commercial banking clients. BMO  said it is joining a growing list of global banks working with Mastercard to offer their clients a better way to send money internationally.
BMO has a long history of serving cross-border customers across a wide range of industries, and our capabilities and experience in this area are a key differentiator for us.
As a result, we have a deep understanding of the complexities involved in running a cross-border business, including as it relates to payments, and this latest offering with Mastercard Send reflects our commitment to providing customers with solutions that deliver against their changing expectations and needs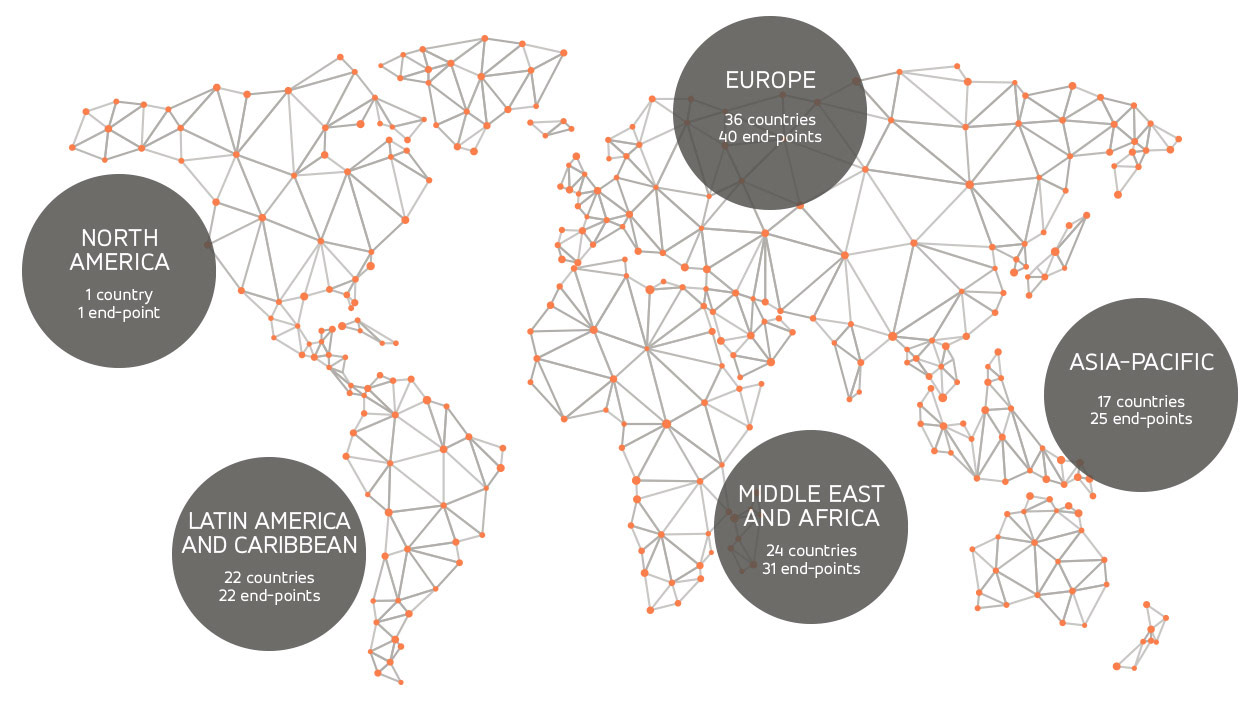 My Role: Leader UX Designer 
Design Team: 1 Visual Designer, 1 UX Researcher, 2 Content Strategist
Business and Tech Team: 14+ teams including Pay a Bill & Transfer Agile team, Platform team, Insights team, Alert team and etc.
I made this solid UX strategy based on the project timeline, business vision, and technical capabilities. I wanted to ensure the design, business, and tech side were aligned and helped to prioritize a team's attention and resources.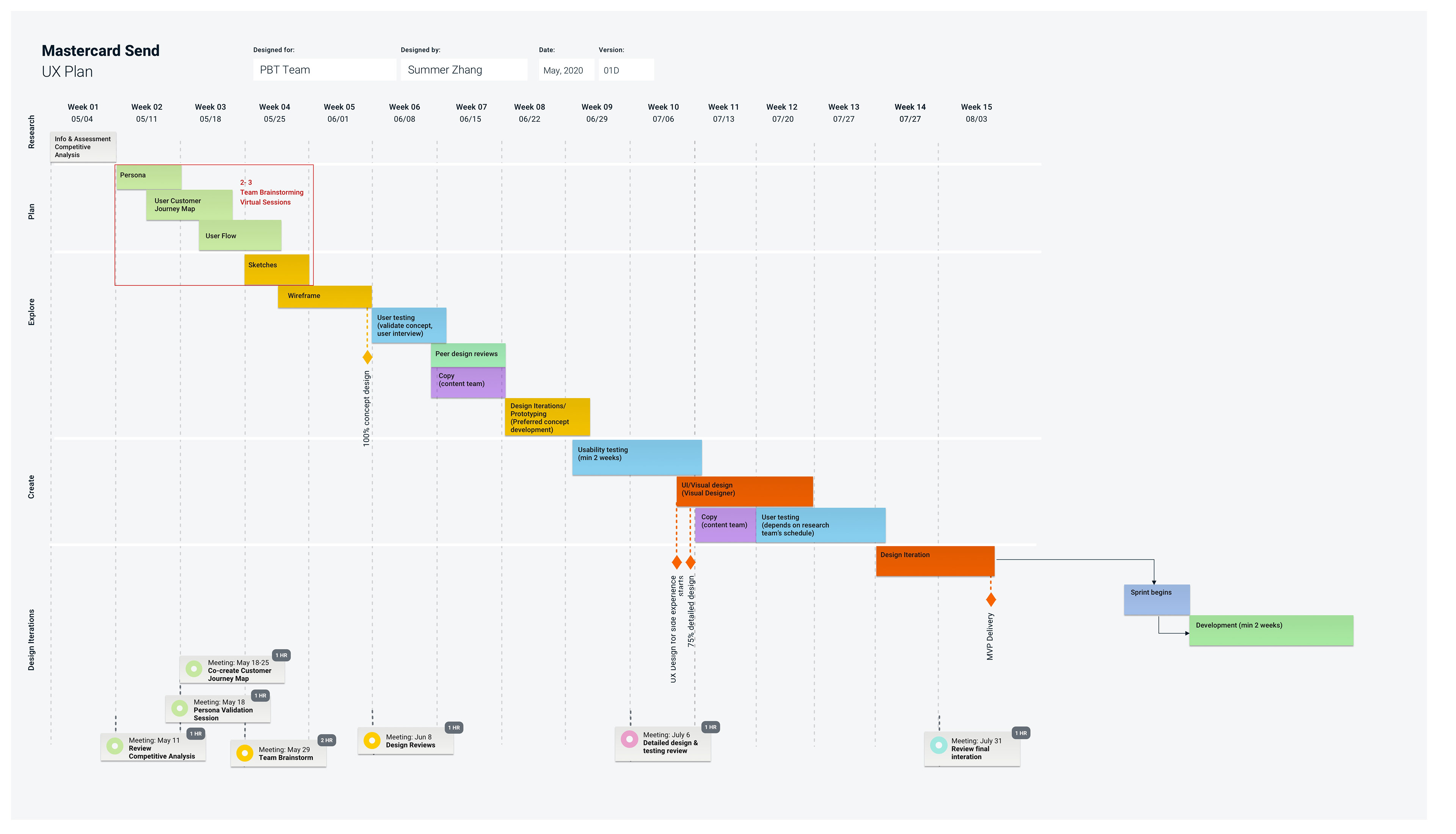 Competitive Analysis Matrix
I spent one and a half weeks on the competitive analysis. I collected major screens through the iSky research platform and 11fs, as well as provided by BMO's teammates. I analyzed the major competitors' products, user flows, marketing strategies, and more related to our upcoming product. The 25+ banks I searched were across the world from Canada, USA, Australia, Germany, China, etc. for both App version and online banking platform. I presented twice to the stakeholders and my design team, shared what I have found through the research, such as the unique features, highlighted great designs, and how they promoted this feature after launch.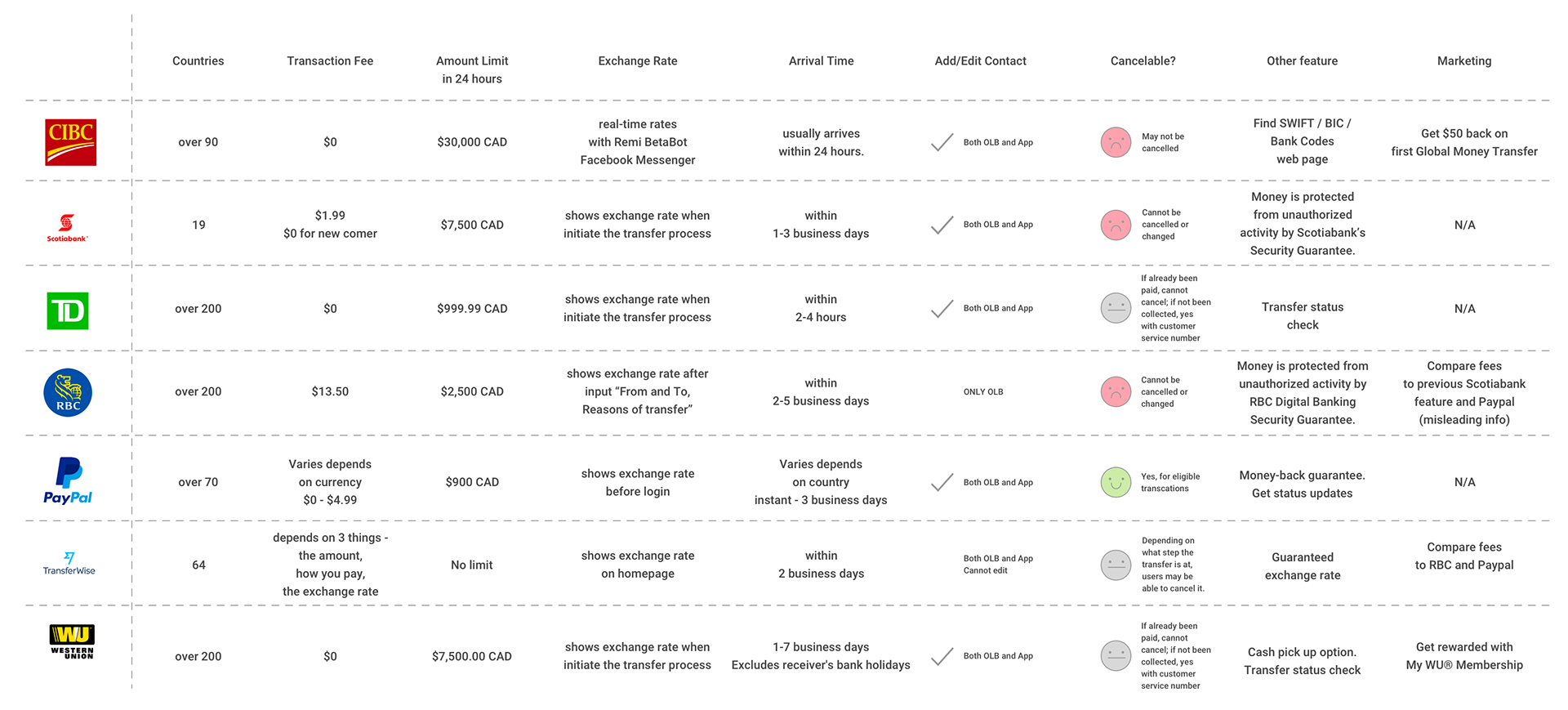 I created the user flow based on research results, user logic and tech feasibility. I discussed the full user flow with my project team several times and based on the tech capacity, I refined and came up with this final user flow. This information architecture was the foundation for both UX and UI. Through the detailed user flow, other team members could understand this feature easily.

We were in an Agile working environment, the engineers requested me to provide a "select country list" as an initial start so they could start to build the back-end system right away. Based on our existing design system, and eTransfer flows, I proposed four ideas to the project team to start. I collaborated closely with the other designers in other portfolio teams to ensure design consistency across the BMO App.
"Select Country List" Proposed Ideas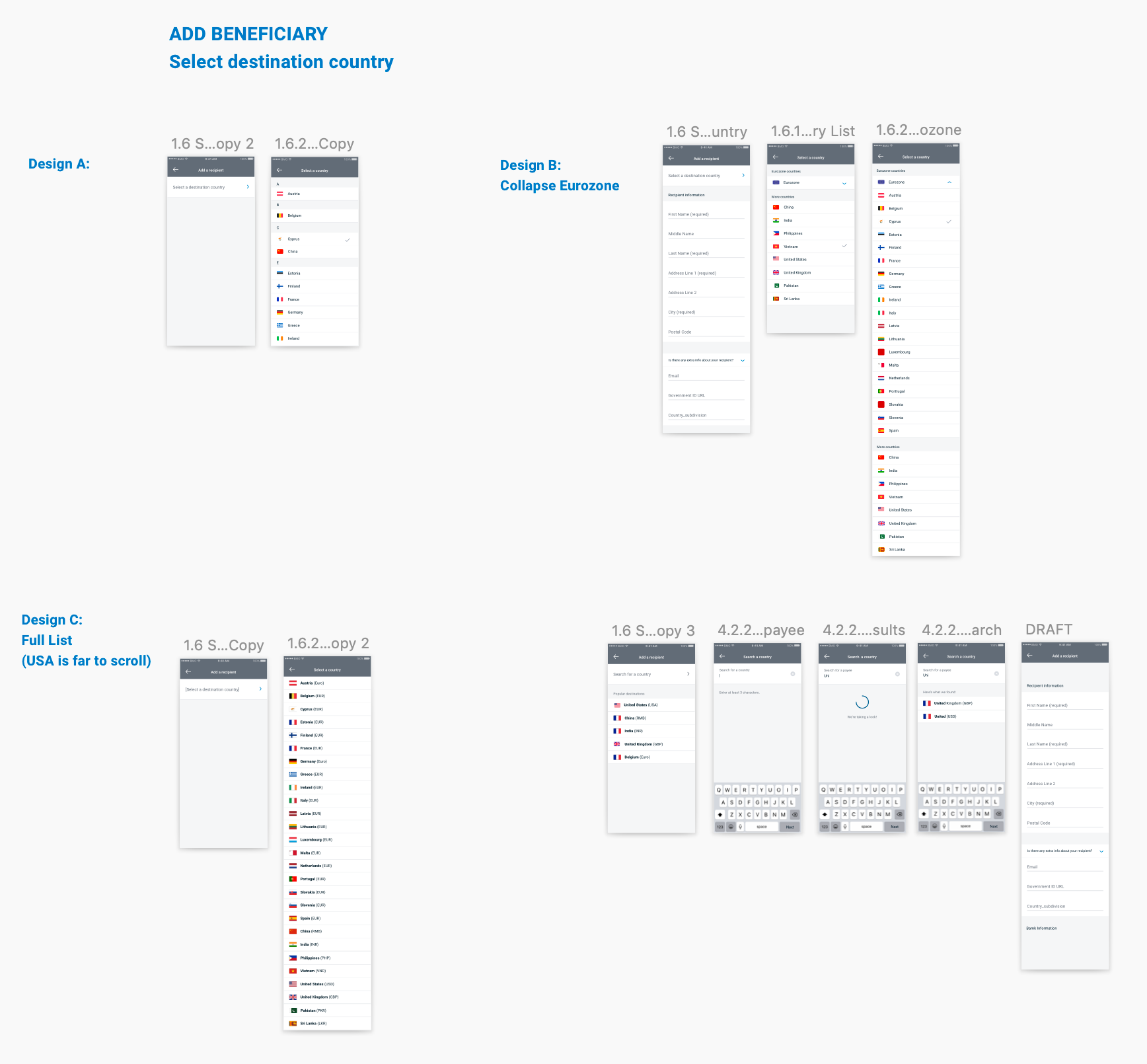 Next, I started with the "add a recipient" flow because this is a common flow shared between several features. At the same time, the other team eTransfer was redesigning the add a recipient flow, so I tried to catch up on their progress and propose ideas earlier to the two teams.
Add a recipient wireframes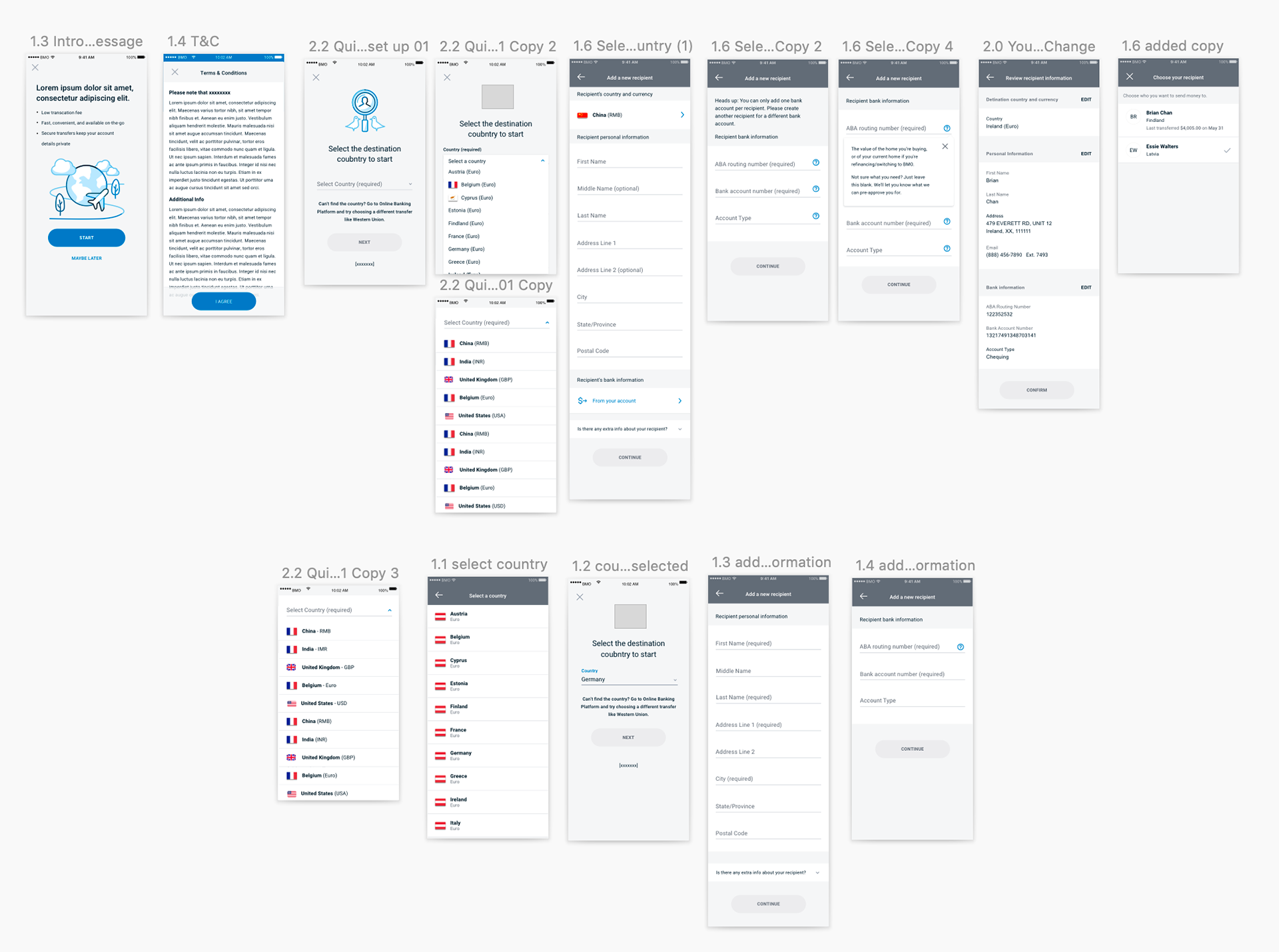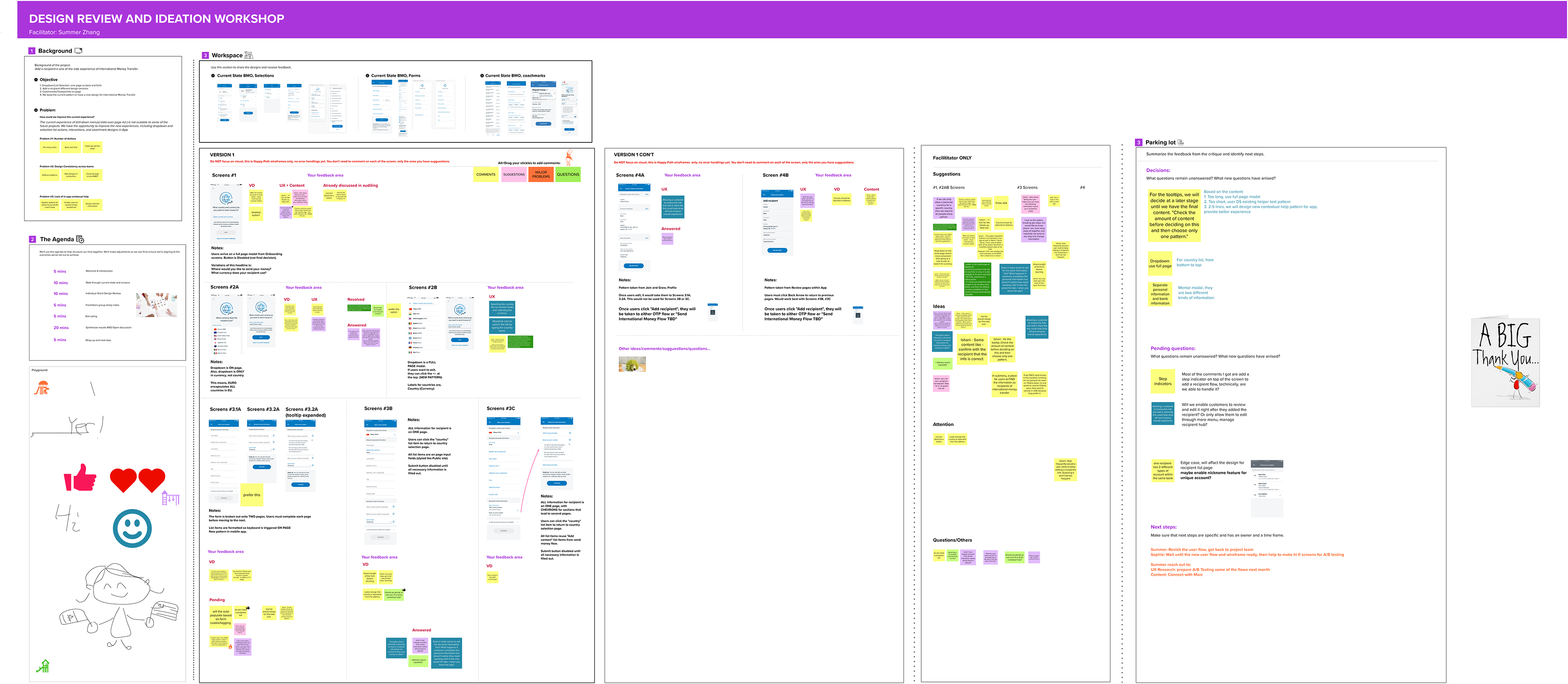 Why I wanted to change the current pattern? More details coming soon.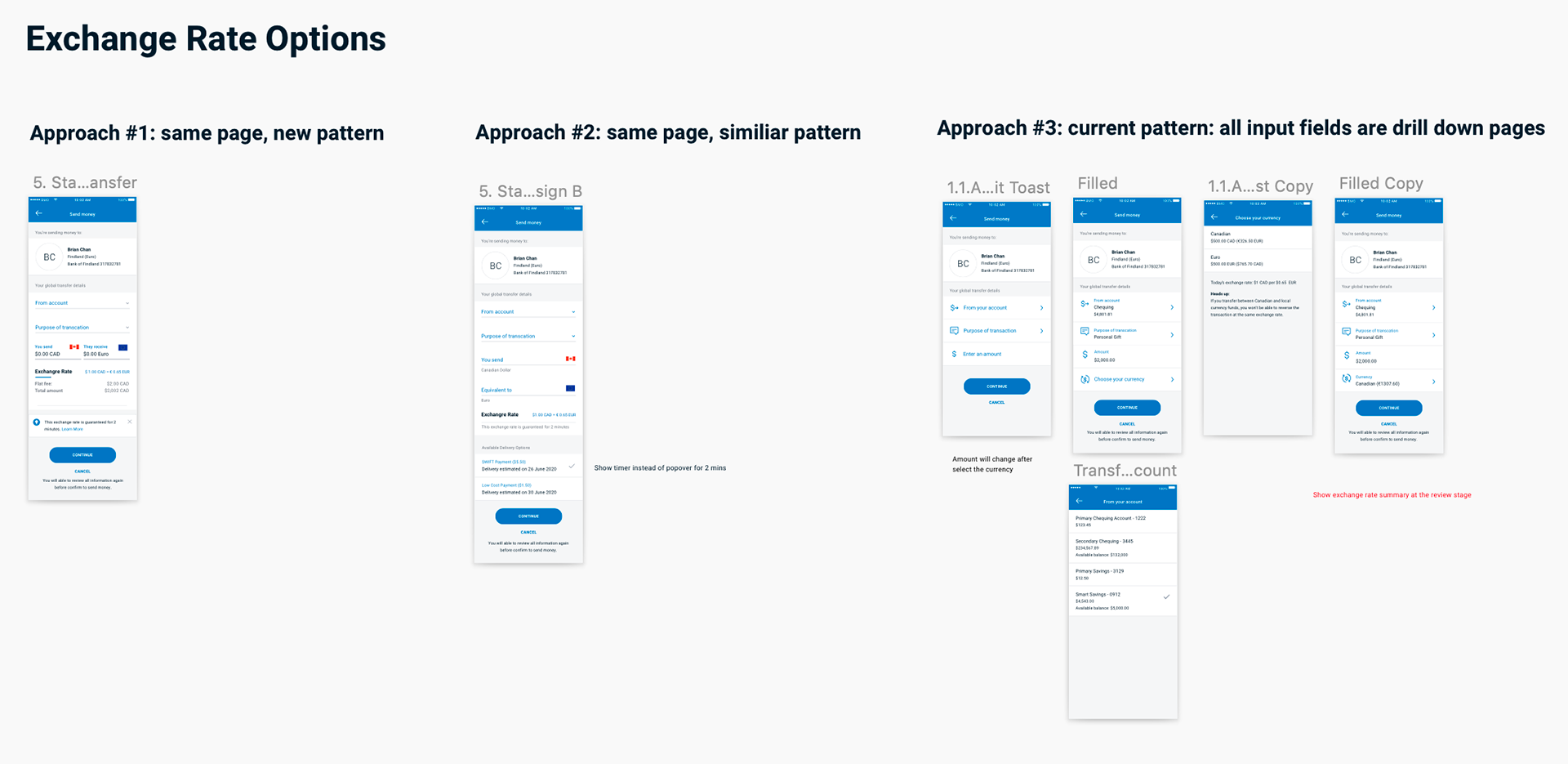 Why I designed a timer? More details coming soon.
More details uploading soon.