May 17, 2022
Slalom City Limits: an internal teaching and learning festival. 13,000 employee audiences.
May 12, 2022
October 25, 2021
May 12, 2021
ADPList Genius Hours #7: Build an Organic Mentor-Mentee Relationship
Jan 26, 2021
Lightning Talk Speaker at dTalk Workshop
April 16, 2020
Lightning Talk Speaker at Brooklyn Product Design
April 21, 2020
Lightning Talk Speaker at Women Talk Design
May 06, 2020
Lightning Talk Speaker at dTalk Workshop
2015
Panellist speaker at the 4th Envision Career Discovery Conference
Toronto City Hall
I founded the Toronto Thousand People's Club (TPCToronto) in 2014 which was a non-profit organization that enriches the lives of youths. There was a growing membership of over 1000 people. I managed 10+ committee members and organized logistics for all events from planning, marketing, and strategy aspects. I have designed a series of infographics and other visuals for various events.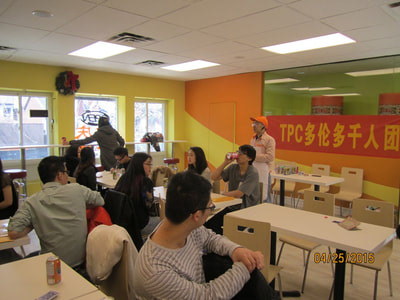 After 2016, At United Nations, I was highly involved in planning and execution in various high-level conference and events including UN Green Fair 2016 - 2019, GA73 High-level meeting on Action for Peacekeeping, 2019 Peacekeeping Ministerial Conference, 2019 International Day of United Nations Peacekeepers, Exhibition: War and Peace in Liberia, Chiefs of Defence Conference.
I have engaged in the United Nations Green Network strategy meetings and highly committed to the UN Green Fair 2016, 2017 and 2018 planning. I also provided consultant service to company Iconthin Biotech Corp. which is a Canadian Startup. Plus, I designed the event booth and logistics for Iconthin Biotech to promote sustainable lifestyles among UN staff at UN headquarters in New York, which including marketing materials, social media strategies, event logistics, etc.
Other United Nations Activities
UX/UI Designer - United Nations Online Volunteer, 2014 - Dec 2019
Visual Designer - Chinese Language Day 2018
Meeting Committee - UN Green Network - 2016 - 2019
Visual Designer - United Nations Chinese New Year Gala 2018
Party Focal Point - International Translation Day 2017
Parade Delegation – UN Staff Day September 2017
Volunteers Coordinator – UN Green Fair, June 2017
5th MoU Conference - Photographer and Event Assistant, April 2017
Story Exhibition Selected - International Mother Language Day 2017 
Singer Performer- United Nations Chinese New Year Gala 2017